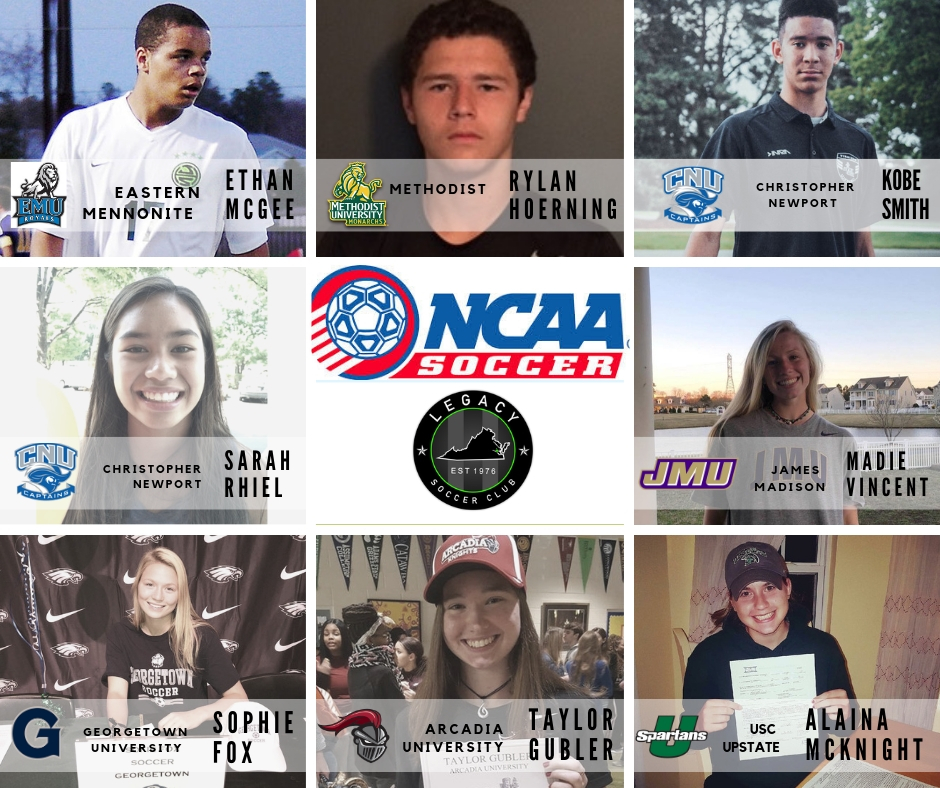 The Virginia Legacy would like to recognize these 20 boys and girls who will be taking their soccer careers to the next level by committing to play NCAA Soccer at the Divsion 1,2,3 levels. Their hard work on and off the field has rewarded them with finding the right fit on their soccer journeys and we wish them all the best in their future soccer endeavors.
In the past few years we have sent players to Division 1 schools on the Mens and Womens side such as JMU, Va Tech, William and Mary, Radford, Longwood, Georgetown and West Point (Army) as well as Division 3 National Powers CNU and Lynchburg
In addition to these 20- there are still a few players that havent made their final decisions yet on college so we expect this list to grow.
With the addition of these 20 players – Legacy's alumni list since the year 2000 is well over 350 players and counting. Thank you for helping us #BuildALegacy while #LeavingYourLegacy behind for others to follow!
Girls:
Grace Dunlevy - Barton College
Summer Hansen - Virginia Wesleyan
Alaina McKnight - USC Upstate
Sarah Rhiel - Christopher Newport University
Sydney Lewis - McDaniel College
Shelby DeJong - Mary Washington University
Sofie Fox - Georgetown University
Madie Vincent - James Madison University
Taylor Gubler - Arcadia University
Isa Villarreal - Longwood University
Whitney Horton - Virginia Commonwealth (VCU)
Boys
Cameron Dunbar: Virginia Wesleyan University
Rylan Hoerning: Methodist University
Daniel Hoffmann: United States Military Academy (West Point)
Jared Bates: Virginia Wesleyan University
Ethan McGee: Eastern Mennonite University
Michael Meese: College of William & Mary
Kobe Smith: Christopher Newport University
Zachary Blaser: Northern Vermont University
John Meier: Bridgewater College