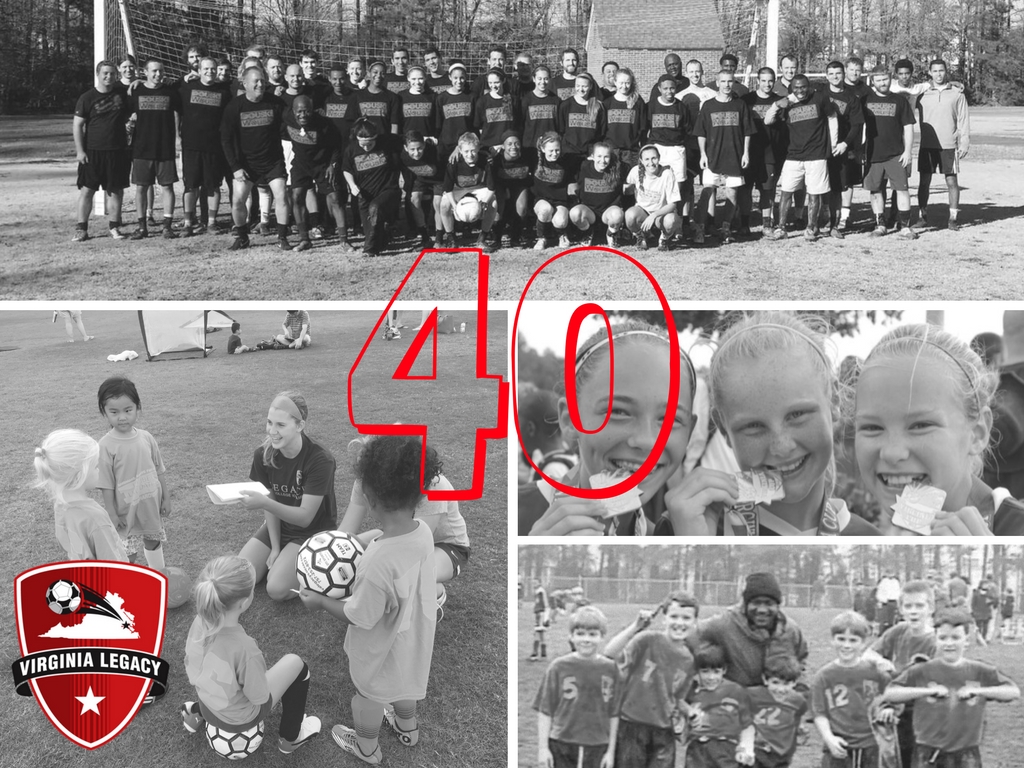 The Virginia Legacy Soccer Club
Celebrating the 40th Anniversary of a Legacy
The Virginia Legacy Soccer Club was established in 1976 by a board of directors interested in providing a home for the sport of soccer in the Williamsburg community.   Originally named: Williamsburg Soccer Club (WSC,) the club started on the foundation of volunteerism and support from the College of William and Mary and community leaders around the Peninsula.   Al Albert, Vins Sutlive, Jr., Vins Sutlive, III, Emeric Fischer, Ken Bick, Len Schifrin, Mike Derrig, Stu Spirn, Ron Geise, Scott Whitehead, Mike Kokolis, and Bob Behncke, helped to create the club forty years ago. Steve Shaw, Richard Butler, Chris Norris and Jon "Amadou" Kamara, have all left their stamp on the club and helped to create a hotbed of talent in such a small community.
As the club expanded to more than just a recreational league in the 1970's, it took hold of a new direction with the appointment of Richard Butler as its first full time director of coaching.  Under Butler's guidance the club began to develop a soccer culture for its participants.  With considerable numbers of local volunteers Butler began to host the region's first large scale soccer tournaments. These tournaments have developed and bring hundreds of thousands of tourism dollars to the Williamsburg community several times a year. 
In late 2005, the club decided to change its image to include more than just the Williamsburg community.  The Williamsburg Soccer Club polled it families for suggested names.  A father of two different generations of the club offered "Legacy."  The name was a perfect personification and representation of what the club had achieved.  The name was officially adopted in 2006.
                              Butler's culture didn't just focus on the infrastructure of the club. His true focus was to center everything around the kids.  The culture he committed to teach was that of discipline, focus, and community.  Over the years many coaching directors have made the club a home and in turn added to its Legacy.  Directors Kevin Darcy, Jeff Dominguez, Tim Cristian, and now Bobby O'Brien, have all added to what the Legacy is today.
Through the years the culture and community created, has brought countless players back home to coach and work for the club or move on to other clubs in an effort to establish their own legacy and purpose.  O'Brien who was a youth player for the club back in the 90's, started as a high school volunteer under Richard Butler and after years of working and coaching in a variety of programs is the club's Executive Director.  Also working full time for the club are Shawn Trueblood (travel team director) and Alex Spirn (Community Director) who also were former club players in the 2000's.  "Having grown up in this club and the influence the coaches had on my life on and off the field made me decide early on I wanted to do the same for kids – so they could have the same great experiences I had growing up.  Having former players come back to work for the club in a variety of capacities ensures that our staff is going to provide the best product out there – because they believe in it – they have lived it " Bobby O'Brien (Legacy Class of 2000 – current Executive Director)
Now that the Legacy is over forty years old, we can reflect on how the community and club have grown together. We strive to provide a home for aspiring minds and healthy bodies. With the growth of soccer as a sport in the United States, so too have the many levels you can now participate with the Legacy: Beginning with Legacy's recreational program, which was first such program in the Community, which now is co-sponsored by James City County, all the way to the flagship Amateur NPSL/WPSL teams, appropriately named Legacy 76, there is a home for every player. Legacy currently has 7 programs serving the entire Virginia Peninsula including: Recreational, Advanced Development (ADP), Travel Soccer, Legacy 76 [NPSL and WPSL], TOPSoccer [a unique program designed by US Youth Soccer as an Outreach Program for community-based training and team placement program for young athletes with disabilities], the Community Partnership program with grant assistance from the Williamsburg Health Foundation, and multiple Pre-School Programs.  Legacy has grown from a program dealing with 100 kids a year to over 2000 kids on a yearly basis across all programs.
With a mission to provide soccer to everyone with a desire to play, Legacy teams up with its sponsors and partners to provide free opportunities at all levels. 
In 2014, The Virginia Legacy received the Williamsburg Health Foundation's Annual Award for its work with SHIP and the W-JCC school system in providing a free soccer league to over 270 kids every year.  This program, as well as the David Allen Pickeral Scholarship, and the general scholarship program within the legacy, provides over $50,000 a year in grants and scholarships to players to go to school or play soccer with the Legacy.  In return, Legacy has had the pleasure of providing opportunities for players whom have an equal place in this community as well as an equal responsibility in making our community stronger. 
  In this 40th year of the Club, we honor where we have been and our name that represents our goal.  Through togetherness as a community and the belief we have in each other, we continue to push forward and instill a strong framework for our future generations.  Believe that what you do today will be remembered and what you dream about will be your own legacy.  The Virginia Legacy would like to thank everyone in the community for the last 40 years.