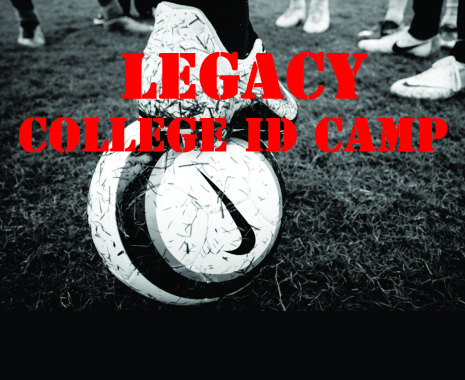 Returning in 2016 the Virginia Legacy is pleased to announce the 2nd Legacy Soccer College ID Camp.  The camp will take the form of college ID camps but in your own backyard over 3 days.  Over the 3 days – at least 9 Mens and Womens College Coaches will be in attendance with work with the High School aged players. 
Players must be at least be going into their Freshman year to attend the camp and born between 1998 and 2001.  The camp will be open to 48 boys and 48 girls.  (44 field players and 4 GK).  The camp is on a first come first serve basis.
Camp will be held in Williamsburg, Va - Warhill Sports Complex

Camp will be from 9:00am to 5:00pm each day and follow the below format:
9:30 – 11:30 – Training Session with College Coach
11:30 – 1:00 – Lunch/ Q&A with the College Coaches
1:30 – 3:00 – Training Session with College Coach
3:00 – 4:30 – Small Sided Play for the Coaches
The 2016 Camp Dates will be June 27, 29, July 1 (Monday, Wednesday and Friday).
"We are very excited to again be able to bring a camp of this type for the Legacy Boys and Girls.  The feedback was great last year from the coaches and players and the demand for players to attend and also for coaches to attend is very high. Many of our players are forced to leave the area for exposure and now we are able to provide a lower cost option and bring the coaches to the players while expanding our players interest base." – Bobby O'Brien – Technical Director
Costs:
Legacy Members - $225
Non - Legacy Members - $295

CLICK LINK BELOW TO REGISTER FOR THE BOYS COLLEGE ID CAMP!! - 
https://campregistrationsystems.com/va-legacy-soccer/college-id-camp-boys-63c4adda-0bf3-4c5d-8093-4d8912562926
CLICK LINK BELOW TO REGISTER FOR THE GIRLS COLLEGE ID CAMP!!- 
https://campregistrationsystems.com/va-legacy-soccer/college-id-camp-girls
Schools that are being Contacted so far for 2016 are the following schools (Will Continue to Update Committed Programs)
Men:
William and Mary
CNU
Virginia Tech
James Madison University
Wake Forest
University of Pittsburgh 
Longwood
High Point
George Mason
Old Dominion University
University of Virginia
Univ. of North Carolina - Asheville
Women:
George Washington
CNU
William and Mary
Virginia Tech
Lynchburg 
Old Dominion University
Virginia Wesleyan
Virginia Commonwealth
American
College of Charleston
Univ of North Carolina - Greensboro (UNCG)