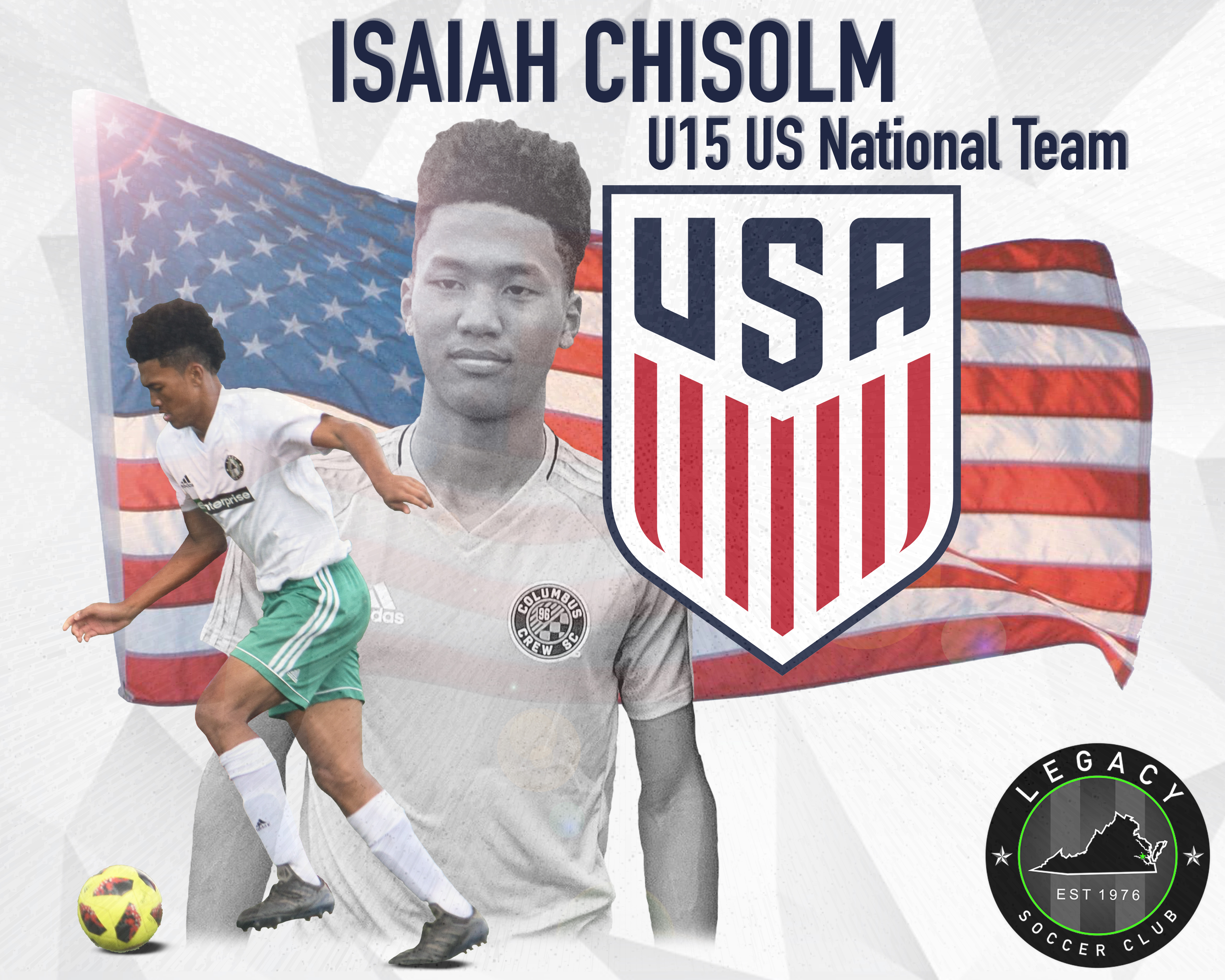 The Virginia Legacy would like to congratulate 2005 Isaiah Chisolm on his recent call up into the U15 US National Team!
Isaiah who played for Virginia Legacy in 2017, 2018 and 2019 - winning two state championships - left Legacy for the Columbus Crew Youth Academy after the Legacy staff arranged for a tryout. After a season with the Crew - Isaiah is now participating closer to home with the DC United Youth Academy of Major League Soccer (MLS).
"We are very excited for Isaiah and his family on this accomplishment! As a young player when he came to us we asked him and his family to trust the process and our player pathway to help him reach his goals. After 3 years - it was evident his development needed the next challenge so we were able to reach out to our connections with the MLS youth academies to get him a chance to prove himself in a professional setting. It is great to see his drive, hard work and dedication has taken him to the highest level possible at his age in the United States" - Bobby O'Brien (Technical Director)
"Legacy is definitely a huge contribution to where I am today. They made me a much better player from the great staff and teams. They were able to open up the pathway for me to get to Columbus Crew. So much has happened thanks to Legacy, its coaches, players and families. It's been a dream of mine to play for the national team and now I've finally received that chance. This means a lot and shows extra work pays off! Thank you Legacy family!" - Isaiah Chisolm
Legacy strives to provide top training and game environments to help players reach their goals. We are confident in our philosophies and player pathway models that our training, competition and coaching can provide what is necessary to create great players and individuals - and in the instances where players need that next challenge beyond what we can provide - we have the connections and partnerships needed to get players seen, evaluated and progressing to the highest levels possible.
With over 325 players playing collegiately throughout the years - and over 150 high school players recognized each year at the district, regional and state levels - Legacy has proven it can provide any player that comes through its system with the tools and resources to reach their soccer goals no matter how big or small.
Congratulations again to Isaiah Chisolm - we are all rooting for you - continue to #LeaveYourLegacy every time you step on the field!