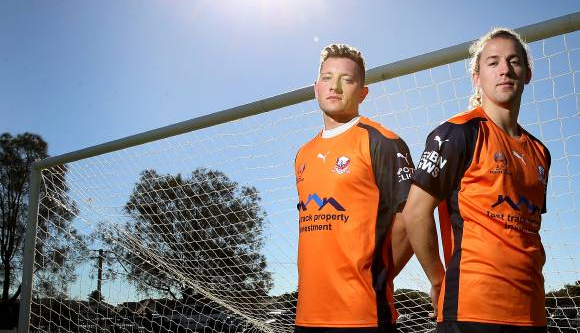 Valentine's American imports rewarded for leap of faith to NPL
Story by Craig Kerry of the Newcastle Herald
Click Here for Website Article
VALENTINE defender Alec Faulkner came to Australia in January not sure if he would be back home in Virginia in a month or in a year.
After a friend put out feelers before making the 15,000-kilometre trip to play NPL football in Brisbane, Faulkner decided to have a crack himself.
Faulkner sent his "soccer resume and highlight reel to almost every club in Australia" but had no guarantees of gaining a deal that would help him spend more than a few weeks Down Under.
Now Faulkner, his good friend Jalon Brown and Valentine are reaping the rewards.
"It was a real gamble," Faulkner said. "I literally packed enough that if soccer didn't work out, I'd be able to travel around for a month.
"I've been living off the same clothes for a few months now," he laughed.
"It was weird saying goodbye to family because it was like, 'see you in a couple of months, or in a year'. It was a weird experience, but thank God it worked out because I couldn't imagine doing anything else right now."
Brown added: "I'd say it's worked out great."
Faulkner was trialling with a club in Brisbane but came to Newcastle after a call from Valentine coach Darren Sills, who was also searching for a striker. Faulkner was quick to offer a suggestion.
"He asked if I knew anyone, and sure enough I asked Jalon," he said. "He had a job in DC doing government contract work, but he dropped everything in the US to come out."
Brown and Faulkner, both 24, have been friends since the age of nine and have "played on the same team pretty much our whole lives". That included while at Christopher Newport University, where they finished in 2015.
The pair have been key players for Phoenix, who have risen from eighth last year in the Northern NSW Premier League to second after eight rounds in 2017.
Brown has been one of the standout players of the league but had scored only one goal before a double in a 4-0 win over Maitland in round seven.
"There was an expectation from the start on the whole goals thing, but getting used to the big centre-backs and me playing in the nine role, it's definitely been a learning curve," Brown said. "I was just getting used to the hits, but I think I'm starting to find my stride."
After falling short of professional deals at home, Brown and Faulkner were keen to further their football as well experience everything Australia has to offer.
"The whole goal coming over was just to try a different system we hadn't seen before and hopefully it's a good stepping stone," Faulkner said. "Whether it's to play in the A-League or venture on to Asia or whatever – just to something more long term."
He said the NPL was not well known in the US, where there were limited opportunities to earn money playing semi-professional soccer, but they were keen to show the way for others back home.
"We're looking at it as a great opportunity to maybe have this as a feeder program for our old teammates and visa versa," he said. "That would be awesome."
The pair work part-time as car detailers in Cardiff while living in Jesmond and they hope to extend their stay past this season.
"We'd love to spend a few more summer months here," Faulkner said.
"We'd both like to surf but we can't and we'd love for someone to teach us."
He said the NPL was a better standard than the semi-pro league in Virginia where they last played, and there was "more consistent quality in this league".
They believed Valentine, who are yet to play Hamilton and Edgeworth, could build on their strong start to the season.
"Our style of play, we're starting to figure that out," Brown said.
"We've got good tactics, we're playing the same players, with not a lot of injuries, so that's helped us and hopefully we can keep that going."