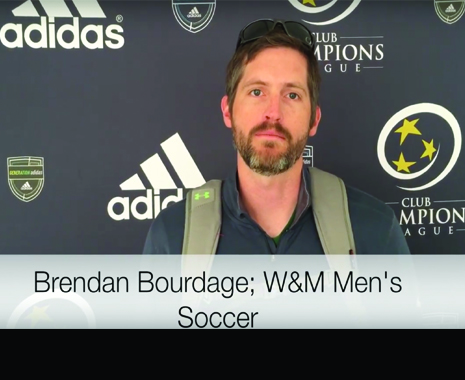 Virginia Legacy Goalkeeper Training Program
The Virginia Legacy is proud to announce the addition of Brendan Bourdage (William and Mary Mens Asst Coach) as the Goalkeeping Director for the 2016/17 Season.  Brendan and his staff have come up with a series of training programs for all of the Virginia Legay Goalkeepers U12-U19 to take part in.  Below are details of each of the levels of training below that goalkeepers can take advantage of.
Coach Bourdage has developed a goalkeeping curriculum that will take the players through the essential steps to becoming a better goalkeeper in an organized structure. Assisting Coach Bourdage will be Megan Mawyer.
2016/17 Goalkeeping Curriculum
Click Here to Read About Brendan Bourdage 
Classic Level Program:
Free to all Legacy Goalkeepers U12 - U19.  Goalkeeper schedule is listed below.  There are 4 nights of free goalkeeper training each week beginning Sept 12th.  2 nights each week are at a Peninsula Location and 2 nights each week are at a Williamsburg Location so that every GK can have the ability to attend GK training each week.  All Goalkeepers that attend regular training will recieve an evaluation at the end of the Fall Season.  
 
September 12th to November 10th:
Mondays and Wednesdays: 6:00pm to 7:00pm (U12 to U14 Boys and Girls) - Dozier Middle (Mondays) & Riverview Farm Park (Wednesdays)
Mondays and Wednesdays: 7:00pm to 8:00pm (U15 to U19 Boys and Girls) - Dozier Middle (Mondays) & Riverview Farm Park (Wednesdays)
Tuesdays and Thursdays: 6:00pm to 7:00pm (U12 to U14 Boys and Girls) - JCC Rec Center
Tuesdays and Thursdays: 7:00pm to 8:00pm (U15 to U19 Boys and Girls) - JCC Rec Center
 
Elite Level Program:
This Small Group Training is open to Legacy Goalkeepers U15 - U19 who are in Highschool. For $125 - GK's can sign up for small group training with Brendan Bourdage to cover more elite topics in a smaller setting. This is a 6 week program for 1hr per week on Friday Evenings.  Players will recieve an advanced evaluation after the 6 week period. The dates for this program are below:
 
6 Week Elite Program:
Dates: Sept 30, Oct 14, 21, 28, Nov 11, Nov 18
Fridays: 6:00pm to 7:00pm (9th and 10th grade boys and girls) - JCC Rec Center
Fridays: 7:00pm to 8:00pm (11th and 12th grade boys and girls) - JCC Rec Center

COST - $125 / Groups are limited to 6 or less - overall program limited to 12 participants
Sign up Here For the Elite GK Program

Platinum Level Program:
1 on 1 Training with Coach Brendan Bourdage.  Schedule to be set with the GK Coach on your own time and schedule so works for both parties.  Cost is $50/HR session.  Contact information is bbourdage@wm.edu