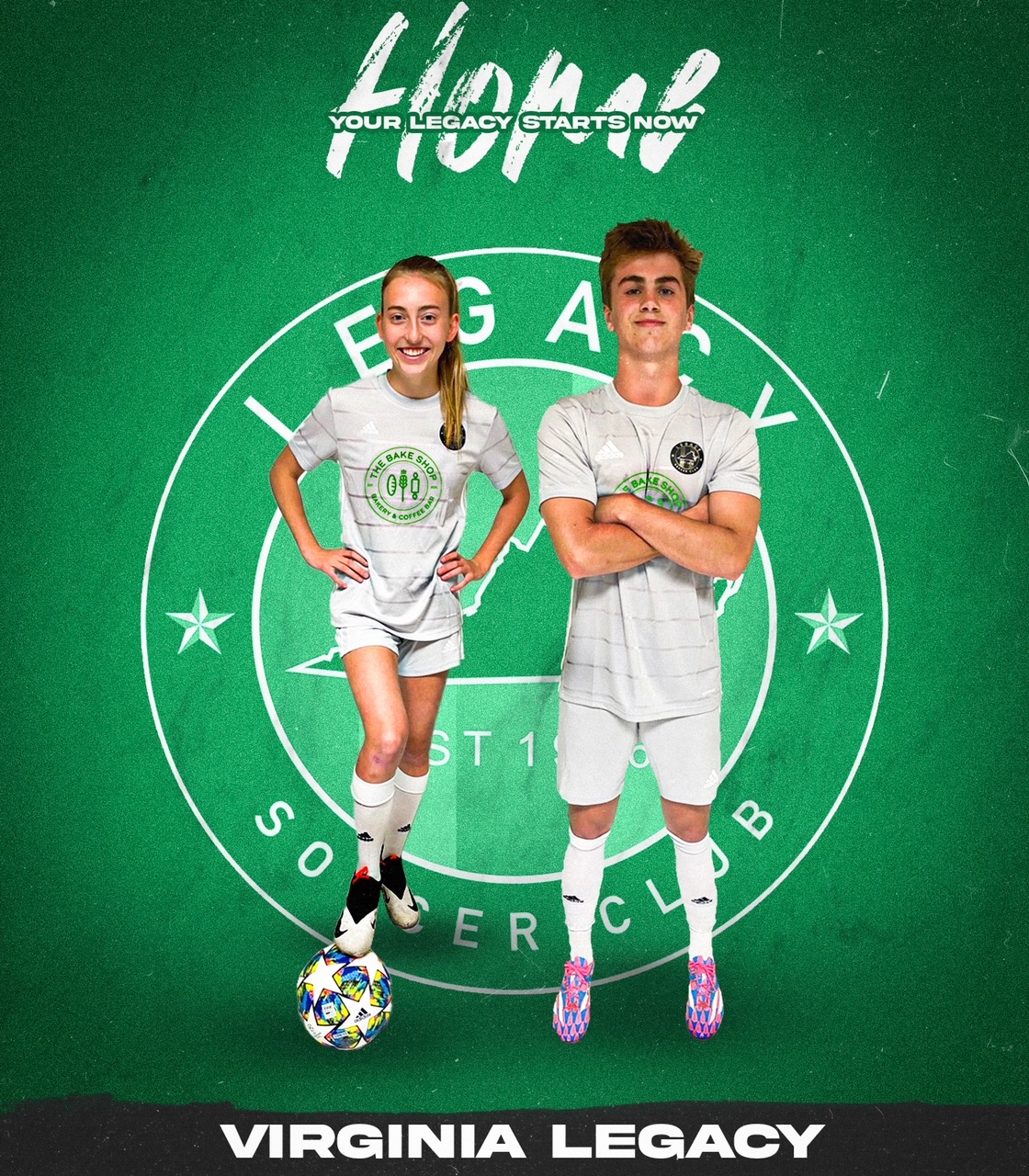 The Virginia Legacy is proud to unveil its new uniforms for the 2021 Fall season. These uniforms will be worn for the 2021/22 and Fall 2022/ Spring 2023 seasons. This coming cycle will feature a Home Kit (Full Grey), Away Kit (Full Black) and a Third Alternate Jersey (Green) that can be wore with either strip. This also gives a sneak peak into some of our new sponsors who will be joining us in June. We are excited to get everyone more information about them in the coming weeks! The new uniforms will allow our players to look and feel professsional wherever they are playing. It is an exciting time to be a part of the Legacy Family. For anyone intersted in more information about upcoming FREE tryouts and placements - players born in 2013 to 2003 - please check out the information below!
Tryout Information:
The Virginia Legacy Soccer Club is pleased to announce the travel team tryout dates for the upcoming 2021/2022 seasons. Tryouts for all Virginia Legacy travel teams, for boys and girls ages U9-U19 (players born 2013 - 2003), will take place on May 8th through May 13th. For exact dates and times please click here
1) Tryout/Team Formation information:
All players interested in participating with the Virginia Legacy for the 2021/22 seasons are encouraged to visit our website for more information on teams, fees, the tryout process and locations in which Legacy operates.
Teams will be formed by Birth Year Registrations - Please only attend the tryout for the year in which you were born - unless otherwise directed by the Legacy Technical Staff.
2) Registration:
All players that are interested in trying out for the Virginia Legacy Soccer Club must pre- register online via at this link - There is No COST to register or attend!
3) Coaching Slate for 2021/2022:
Coaching assignments for the 2021/22 seasons will be posted online as they become confirmed starting end of April. Please continue to visit our website for updates on coaches, fees, uniforms, and other information regarding the 2021/22 travel soccer seasons.
Current Coaching Staff: http://www.valegacysoccer.com/coachingstaff/index_E.html
Questions:
For more information regarding the Virginia Legacy Soccer Club, please visit the Travel Team section at www.valegacysoccer.com If you have any questions about the placement process, please contact the Virginia Legacy Soccer Office at 757-253-8572 or email Bobby O'Brien (Technical Director) at obrien@valegacysoccer.com, or Mary Morgan (Girls Director) mary@valegacysoccer.com or Brendan Cook (Boys Director) cook@valegacysoccer.com