By Kellen Holtzman - Va Gazette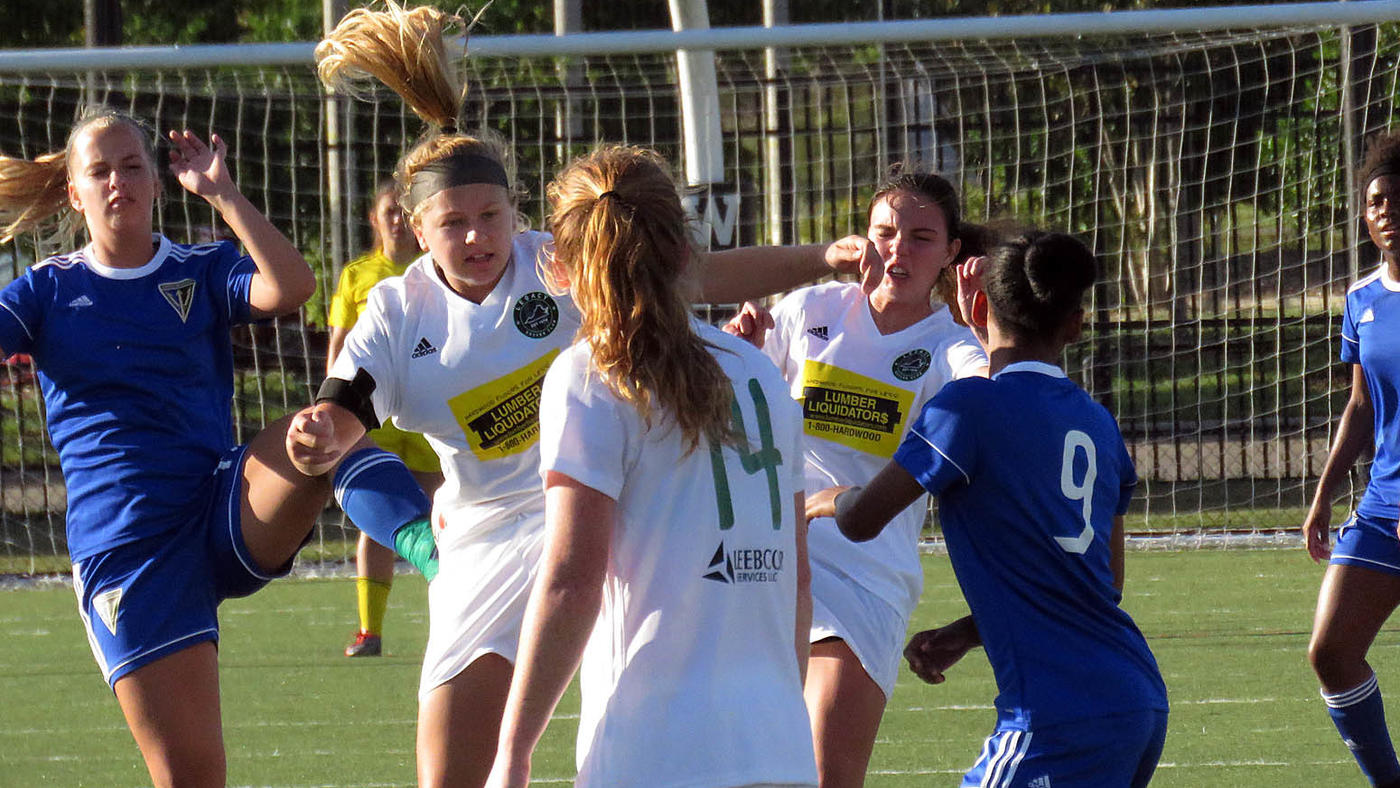 No goals, but Legacy W76 Impresses In League Debut
Story by Kellen Holtzman
Read complete story at VA Gazette by clicking here
JAMES CITY – Legacy W76 coach Kelvin Jones will worry about the offense later. That'll come.
After about only a week of training, Jones' side looked every bit an organized team Saturday in its Women's Premier Soccer League debut, a scoreless draw with Virginia Beach City FC at Wanner Stadium.
"I wasn't worried about anything on the attacking end of it," Jones said, "because they're all very good players and that will all be figured out."
Better news: Legacy W76 had moments where it seemed like they weren't that far off from solving the offensive equation. Warwick High's Patricia Ward, a Minnesota recruit, had a shot denied at point-blank range in the 85th minute before Christopher Newport University freshman and Lafayette High graduate Carson Pokorny's threatening volley went just wide left in the 88th.
The story for Legacy W76, though, was the defensive unit led by William and Mary recruit and Jamestown senior Page Frantz, and Longwood recruit and York High senior goalkeeper Madison Van Dyke.
Jones' woman of the match for Legacy W76 was Brianna Behm, a former Walsingham Academy standout that served as a holding midfielder Saturday.
Frantz can slot in at about any position, but owned her center back role Saturday evening. A second half clearance in front of goal, when Van Dyke came off her line to make a save, was one of Frantz' memorable efforts.
"You can see why she will play at a high level," Jones said of Frantz, who played on the back line alongside CNU freshman Shaye Doherty, a former Warhill standout.
The match was a reunion of sorts for some of the players that played together in the Virginia Legacy Soccer Club on lower youth levels before dispersing to other regional club teams. Thursday marked the first team scrimmage and some players had only a few days of practice.
"I know some of us played together when we were little," Frantz said, "but it's been years since we've all played together. So to come together and be this organized like this is huge. We're just going to get better as the season goes on."
The disclaimer about this level of soccer is that player development is paramount, over results. But when the whistle blows, the players can't help but go for results, and Saturday's debut went a long way in showing Legacy W76 should at least expect a competitive season.
And the supporters that braved the cool temperatures Saturday got to see what the national soccer league, one tier below the National Women's Soccer League, is all about. They are invited back next week when the team plays host to Fredericksburg FC.
"We can have a successful season if we work as hard as we did this game," Doherty said. "If we just keep it up, we're going to keep developing and getting better. So this is a good start and we're going to progress."
"I'm excited to see what the rest of the season looks like," Jones said. "I'm sure there will be tougher competition and easier, but the results will come if the girls continue to maintain a competitive environment. And it's been great so far."